NewsgroupDirect is a great high speed Usenet provider that offers great competitive features and prices. They have many different plans, including block and month plans and a free trial for those of you who are just starting out. They offer a great deal of support when it comes to trouble shooting and solving problems and they keep your privacy 100% yours! Being a member of NewsgroupDirect can save you tons and give you more perks because of their membership rewards that they offer. NewsgroupDirect runs a regularly updated blog too, for all thing Usenet and all things.

Features
With NewsgroupDirect, you can be sure that your Usenet experience is great because they constantly listen to the people to innovate their software and hardware to make sure it is the best it can be for consumers. They pride themselves on their great reliability on their servers and their world-class retention access. They have speed-optimized engines to make sure that your Usenet is running at your fastest possible Internet connection speeds.
Some interesting and unique features with NewsgroupDirect include their Membership Rewards program, their online storage, the auto-recycling accounts and the control panel. They run a membership rewards program for all member to get credits toward your payments by promoting their services and the brand, making your Usenet service much cheaper. They offer free online storage with ever account and you can recycle your account any time to get a fresh pack of bandwidth so you never have to worry about the next billing date. Their control panel gives you access to all the important things you will need while dealing with Usenet and it is easy to find, right on their accounts main page of the website.
Price
NewsgroupDirect offers many different plans, separated into two main clusters. They offer monthly plans and block plans. The monthly plans offer 20GB per month to unlimited GB per month and range from $7.95-17.95 per month. They also offer one year long package with unlimited GB for $249.95/year.
Their block plans can be shared, renewed and can never expire. They offer plans from 10-2000GB with no expiration date from $3.00 – $150.00.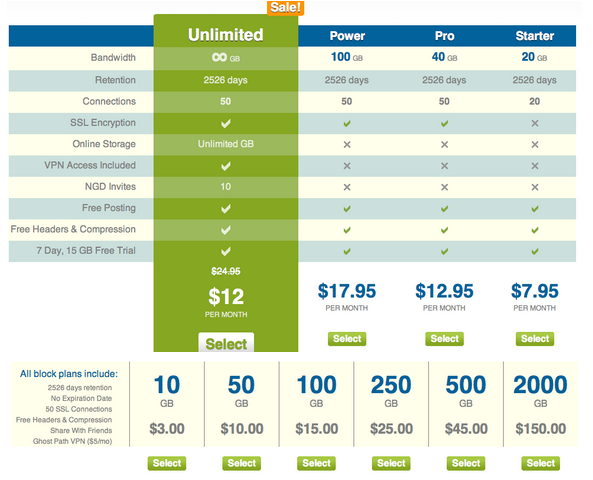 Free Trial
NewsgroupsDirect offers a free trial for new memberships that lasts 7 days or 15GB, whichever comes first. The free trials are only available to people with US credit cards though, so be weary.

Support
NewsgroupsDirect has a huge support section, with FAQ pages, feedback pages, a network status page, support center and a contact us page. Through all these and the 24/7 support service, you should have no troubles with NewsgroupsDirect or their programs.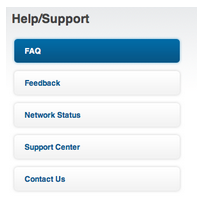 Start NewsgroupDirect Free Trial NOW