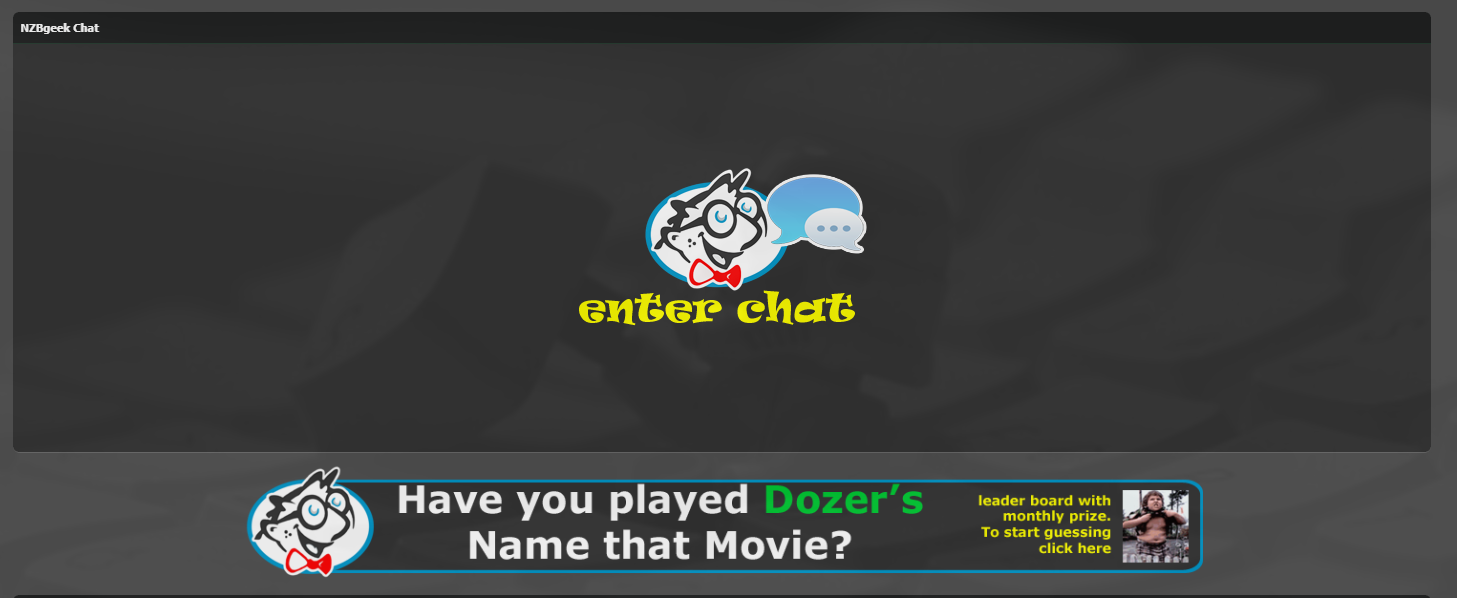 NZBGeek is one of the most popular NZB sites around. As you can see on our Best NZB Sites. This is because the platform provides some of the best service and reliable functionality among its competitors. The website focuses on a community-based model rather than relying on individual servers. It was launched in 2012 and has since steadily gained in popularity. The website provides a free version as well as paid memberships. Registration is required for both. This service relies on its community, unlike other indexers. Newhosting has made NZB easy for you. Newshosting client specialize in NZBs, If you want to download binaries, NZBs are the best way to go.
NZBGeek Highlights
What really sets NZBGeek apart from other Usenet indexers is how well integrated the community is. There is a forum present, which is based on the open-source MyBB platform. The forum contains over 35,000 posts and deals with an array of topics. Not only can you discuss NZBGeek and other Usenet-related content, you also have sub-forums for games and programming. This allows the community to come together and collaborate.
The community is also steadily gaining more members, allowing for a diverse range of people. There are now more 330,000 members of NZBGeek, and this number is only growing. For contrast, just a few years ago, NZBGeek was celebrating the achievement of gaining 20,000 members. With over 3 million different NZBs and releases available, these users certainly don't have a shortage of content to browse through.
NZBGeek is also constantly updating and adding new features. This means that you're always getting the latest and greatest out of your Usenet setup.
Best of all, basic membership is free, so you can try out NZBGeek and see if you like it without any worries. This makes NZBGeek an enticing option for anyone looking for a Usenet search service.
NZBGeek Features
To get started with NZBGeek, you don't even need an invite. The registration is free to all users and you can just sign up anytime you want. The website allows you to search through and browse content on Usenet servers. If you find what you're looking for you can download an NZB file and download it through your Usenet service provider.
NZBGeek also features a forum for its users. The forum contains help posts for new users, as well as informative tutorials on how to get the best out of your Usenet setup. There is rich discussion regarding the best newsreaders, VPN providers and automation. The general discussion forums provide a place for the community to share and discuss everything from autos to sports. Many of these sub-forums are inactive but you can still find interesting discussions in some of them.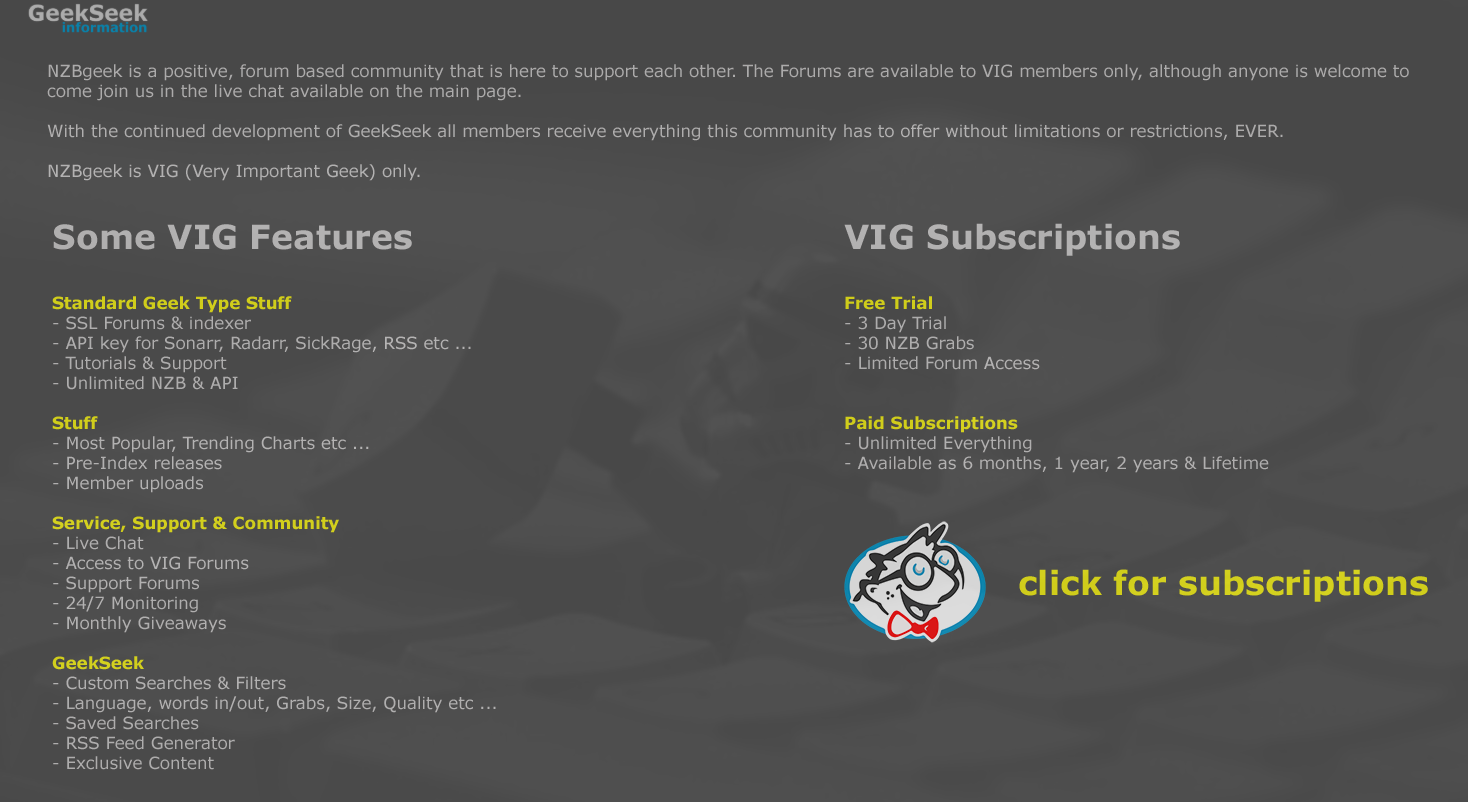 NZBGeek Memberships
NZBGeek has options for both free and paid memberships available. There are limitations on what you can do with the free version and it is meant as a trial for paid users. Users are actively encouraged to get paid subscriptions, so they can avail the fullest experience with NZBGeek.
Membership Plans
Donating to the website gives you VIG (very important geek) status. This enables an array of features that will prove handy to most users. Support for custom searches is enabled and this allows you set parameters to narrow down your search. This filters out results that are not relevant to you. Similarly, spam filtering and language flag can also make searching easier. VIG status allows you access to the NZBGeek API. The limit for NZBs per day is also removed, allowing unlimited NZB downloads each day.
Additionally, the premium membership allows users to participate in giveaways and gaming contests. There is also the ability to request content.
A trial is available for the VIG membership, which allows free users to get limited access to forums and 30 NZBs per day for up to 3 days.
Free Membership
For users who just want to give the service a shot or have extremely limited usage, you can sign up for a free NZBGeek account. There is no requirement for an invite to create an account on NZBGeek. You can download up to two NZB files each day and you can not post on the forums. You can browse through the content to see if you can find what you need and get accustomed to using the Usenet indexer. API access is also not available to free users.
Membership Cost Info
A lifetime membership to the service is available for just 30$ and if you're looking for a long-term Usenet indexer, you'll want to get this. If you want a 6-month or 1-year membership, however, you'll need to spend around a dollar each month. For 18$, you can subscribe for two years but at that point a lifetime subscription would likely be the wiser choice. A free trial is available that allows 3-days of VIG access to potential customers.
Technical Details
The NZBGeek Usenet indexer updates every 10 minutes. The server was last reported to be running on a 4-CPU server with 2GB of RAM, providing a 100MB pipe. This information has not been updated in a while and the system is likely to have been upgraded in that time.
NZBs & Retention
NZBGeek has a retention of more than 1100 days and they are continuing to improve it incrementally. This is good for a Usenet indexer and will be enough for most people. The service has more than 3 million NZBs available and provides a plethora of content to its users.
Ease of Use
Once you have it set up, NZBGeek is very easy to use. You can just use the search bar and perform simple 1-click operations to get the files you need. Search lists and filters help you weed out irrelevant results. If you face any issues, you can use the forums help solve them.
API Integration
Once you get a hang of the basic of Usenet, you may want to look into automating downloads. This is made possible through the NZBGeek APIs. They allow you to connect to applications such as Sonarr and Radarr, so you don't have to do the work of finding content yourself. This really allows you to best utilize Usenet but setting them up can be confusing. This is where the tutorials on the NZBGeek website are very useful.
Security
NZBGeek provides full support for 256-bit SSL encryption. This is good for security conscious individuals as the encryption protects any confidential information from being viewed by your ISP or any external agency.
Search List Examples
You can search lists by using the following kinds fields:
• Name of post
• Category
• Post date
• File size
• Number of files
• Member comments
This flexibility allows you to efficiently search for exactly what you need.
How to Use
Using NZBGeek will seem familiar to anyone who has ever performed a Google search. To get started with the Usenet indexer, all you must do is type your query into search bar and tap the button to continue. On the search result screen, you can select all the desired files and click the download NZBs button. Then you can use your service provider and newsreader to download the file you want.
Conclusion
Overall, NZBGeek is a great option if you are looking for a new Usenet indexer. It is easy enough for beginners to use but provides advanced features that make it useful for even the most advanced users. NZBGeek is easy to recommend as it provides reliable service and a strong overall experience. Also check out our Best Usenet Providers for our best picks for Usenet Services.