Newsgroups Services Review 2023
How to Choose the Right Newsgroup Service | the Ultimate Guide
Choosing the right Newsgroup Service is not a simple task as there are so many choices available that it can get overwhelming. Most Usenet Service claim to be the best Service, but you must always do your own research and consider the important factors such as Retention Period, Concurrent Connections, and Security to evaluate the Service. Newsgroups.com will help in the searching of of Choosing the Right Service in 2023 that's right for you. Let's get started.
What is Usenet?
In Simple Terms, Usenet is like a discussion forum where you will find various segments, known as newsgroups, where you can discuss various topics. It works independently, and it has millions of users around the world. 
Choosing the Right Newsgroup Service for You
Choosing the right Newgroups Usenet Service  can get difficult, but in this section, we will share some important factors which you must consider when choosing any Service.
Best Usenet Provider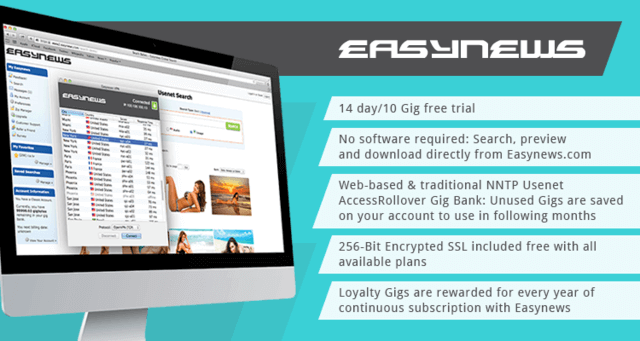 This is what EasyNews has to offer.
Easynews offers a U.S. and a European NNTP news farm option.
Hassle-free Zip Manager. Makes it easy to download zip file.
Secure Your Internet Connection with easy-to-use Easynews VPN software.

More About Easynews
Price and Plan Types
Let's start with Plan Type, which is a very important factor that you must consider when choosing your next Service. There are basically two types of Plan Types available: Block Plan and Regular Plans. 
Block Plans comes with a fixed data limit, and they don't have any expiry date. This type of package is ideal for those people who are not regular users, and they use the platform once in a while. 
The regular plans are the monthly, quarterly, and yearly plans which provide Access to the Usenet for a certain duration. Mostly these plans don't come with any data limits, and they are ideal for Power Users.
Best Usenet Provider
Now the pricing of the plans varies from Service to Service. However, most Services offer a great discount on long term subscriptions. So, if you intend to use the Usenet for a long time, getting long-term membership will save you some money.
Free Trial
Free Trial is one of the best ways to test any Usenet Service, and we would recommend you to use it if your selected Service offers it. Now, most Service offer a free trial, and you can use them to test the Service. Some also don't offer a free trial, but they offer up to 45 days of the money-back period during which you can claim your money back.
Access Usenet with your Web Browser
Access Newsgroups directly from your Web Browser. You don't need a newsreader or NZB indexer. You can get access directly on Chrome, Firefox, or your favorite web browser. built-in search engine allows Usenet search, previews, and downloads on Chrome, Firefox, or your favorite web browser. Like any search engine, simply enter a search term to start finding results.
Absolutely no software or configuration is needed to start reading your favorite articles or viewing content online. Simply sign up for an Easynews plan, login, and start searching… It really is that easy!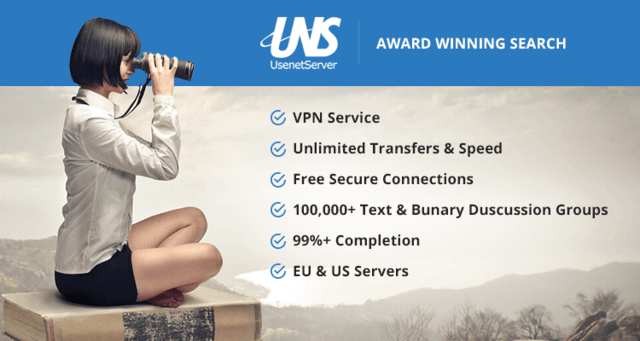 Reasons to choose UsenetServer (UNS)
Retention Growth
The Retention Period is one of the most important factors which you must consider when choosing a Provider. A good Usenet Service offers at least 4653+ days of the retention period, and you should not settle for less than that. Also, make sure that you pick a service provider which is continuously working on Retention Growth. 
Best Usenet Provider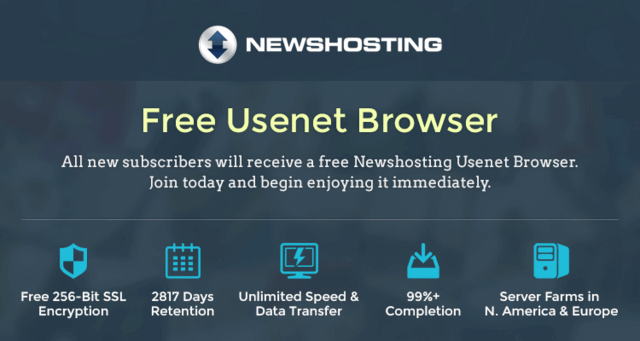 This is what Newshosting has to offer.
Easy-to-use Newshosting Usenet Browser
VPN Service remain anonymous and secure.
NH Plan Customizer will choose the plan that is right for you More About

Newshosting
Newsfeed Completion
Now the next thing which you must consider is the Newsfeed Completion rate. It's basically the metric that basically tells you about the quality of the Service. Many service providers claim a higher retention period, but they come with a poor completion rate, which signifies that the Service is not good.
A good Newsgroup Service offers at least 99%+ Newsfeed Completion rate, and you should not settle for less than that. Major Usenet Service offers a Newsfeed Completion rate of 99.9%+ which means that you will get an almost 100% completion rate.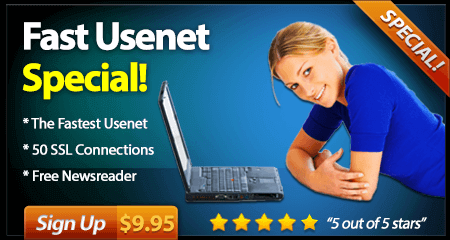 Why FastUsenet offers the best Usenet experience.
Unlimited Access
If you want a monthly, quarterly, or yearly subscription plan, it's important that you pick a Service  that offer unlimited Access. Many Services offer Plans with Data Caps, which is not ideal for Power Users, and you will most probably reach your data limit by the mid of the month. So, make sure that you pick a Usenet Service that offers Unlimited Access without any restrictions or data cap.
Network & Server Location
Network & Server Location is another very important factor which you must consider when choosing your next Usenet provider. Now basically, there are two types of Service Providers. The first type of Service providers have their own server farms, and they have their servers in major regions around the world. The second mainly depends on virtual servers, and they have very few servers around the world.
Best Usenet Provider
You must go with the first type and pick a Service Provider who has its own Network and have their servers near your location. In this way, you will be getting higher speed with very low latency. If you choose a Service provider with Virtual Servers, you can experience some performance issues.
Connections
The next factor is Connections or Concurrent Connections. Concurrent connections are the total number of connections that you can have with your Usenet server at a time. These connections are important because they allow you to utilize the full bandwidth of your internet connection. 
Now different Providers offer a variety of concurrent connections, and the minimum number of concurrent connections which you should consider is 10. 10 Concurrent connections are more than enough to utilize the full bandwidth of most internet connections.
Speed & Reliability
Speed & Reliability are two things that you can only if you are only using the Service. If your chosen Usenet Provider offers a free trial, use it to test their speed & Reliability. However, if there's no way to check their test service, then you should check if your selected Service has its own service farm. If they have one and their servers are near your location, there are great chances that you will get good speed & Reliability. Also, you can check our detailed reviews, which cover the various aspects of a Provider.
VPN
VPN (Virtual Private Network) is a security product that allows you to bypass geo-restrictions and provide online privacy. Now some Usenet Service Providers offer the free VPN, but most of them don't have one. In our opinion, it's not a must-have feature, but if your selected service provider offers VPN, it will be icing on the top.

This is what Giganews has to offer.
No Log VyprVPN Included 

100 Connections & SSL

Unlimited Speed & Access
Usenet Search Engine
Many Providers have their own Search Engine, which allows you to search Usenet and get files of your choice. However, many services don't have their own search engine, but you can always use third-party Search Engines to explore Usenet.
Newsreader
Newsreader is the client, which acts as a bridge between you and the Usenet. It allows you to download files. Many Newsgroup Service have developed their own newsreaders that work flawlessly with their Service, but there are also many third-party Newsreaders available which you can consider. If your selected Provider has its own Newsreader, it's a good thing, but if it doesn't have one, then it should not be a deal-breaker as there are many free options available.
Security
It's very important that you pick a Service that offers good Security. When choosing a Usenet Service Provider, make sure that it supports the SSL connections, which will allow you to connect with servers via an encrypted channel, and no one will be able to track your activities.
NZB Compatible
NZB is an XML-based file format that allows you to retrieve data from the Usenet Servers. Now, most Newsgroup Service and Newsreaders support the NZB Format but still make sure that your chosen Service supports NZB Format.
Best Usenet Provider
Conclusion
These are the important factors which you must consider when choosing a Newsgroup Service for you. We will also recommend you to check our Reviews where we comprehensively explain many aspects of the Usenet Service, which will help you make the decision.
Best Usenet Provider