SuperNews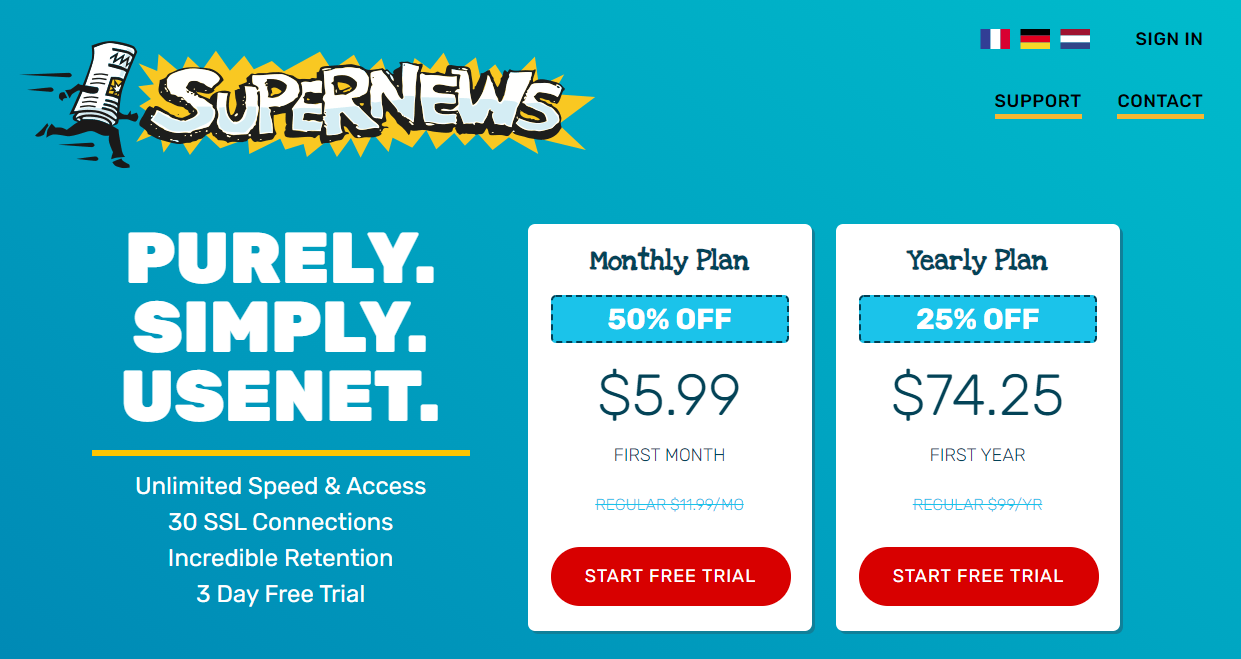 Supernews Reviews: Everything you need to know
Supernews is one of the oldest players in the Usenet Industry, and it has been around since 1995. The main reason why Supernews is popular is that it offers the basic service without any extra features. They claim to offer high-speed Usenet connections, and in this guide, we will see if it lives up to our expectations or not. In this Supernews Review, we will tell you everything you need to know about it. Let's get started.

Features
Supernews is mainly known for its basic Usenet Service, and the company doesn't offer many features. However, these are some of the basic features which you get on Supernews Usenet.
One of the main highlights of Supernews is that it offers access to tons of Newsgroups. In this service, you get access to over 110,000 Newsgroups which is very promising.
Secondly, the company has its servers in North America and Europe which means that if you are from these regions, you will getting blazing fast speed and performance.
What Supernews has to offer. 
These are the features Supernews has to offer.
Text Retention of 17+ years

Binary Retention of 2357+ Days

30 SSL Concurrent Connections

3 Days Free Trial (10 GB Data)

Servers in North America and Europe

24X7 Customer Support (Ticket Based Support)

High-Speed Connections

Monthly & Yearly Package

Pricing Packages

When it comes to packages, Supernews offers only two of them. The First Package is for monthly subscription holders, while the second Package serves the yearly subscription holders.
SuperNews
Supernews Monthly Plan is the basic plan, which is ideal for you if you want to thoroughly test the service. In this Package, you get the following perks.
Unlimited Speed

Unlimited Usenet Access

30 SSL Concurrent Connections

3 Day Trial

Access to fast servers in North America and Europe

24×7 Customer Support
SuperNews
When it comes to pricing, the company offers 50% off for the first month, and you will be charged $5.99 for the first month. Once your first month is over, you will be charged $11.99 per month for the rest of your subscription period.
If you are looking for something more affordable, you can go for a yearly subscription, which will cost you $74.25 for the first year, and you will get a 25% discount. After your first year, you will be charged $99 per year, which is still much better value for your money. In this Package, you get the following perks.
Unlimited Speed

Unlimited Usenet Access for 1 Year

30 SSL Concurrent Connections

3 Day Trial

Access to fast servers in North America and Europe

24×7 Customer Support
Free Trial
Most Usenet companies don't offer a free trial, but Supernews does offer one. However, it comes with 3 days of Usenet access and 10 GB of Data. During this period, you will have to decide whether Supernews is the right option for you or not. 
The process of getting a free trial is very simple. You will have to provide your details, including your name, email, and payment details. Once your trial period is over, you will be charged for the selected Package. During your trial period, if you are not satisfied, you can simply end your trial, and you won't be charged for any package.
Retention & Completion
When it comes to retention, Supernews offers 17+ years of text retention, which is pretty remarkable. However, the website doesn't provide any information on binary retention. After some digging, we found that Supernews offers the binary retention of 2357 days. The binary retention of Supernews is lower than Easynews 
SuperNews
The official website also claims a 100% completion rate, and we test this claim. In our test, we were able to retrieve the most files in the claimed period, which shows that the company offers a good completion rate.
Connections & Speed
Connections or Concurrent Connections are very important because they allow you to max out your internet bandwidth and get stuff quickly. Supernews offers 30 concurrent connections for all of its users, and all of them are SSL connections which means that your data will be protected, and you don't have to worry about your privacy.
The company also claims that it offers unlimited Speed, and its servers will max out your internet connection. We also tested the Speed of the servers with our 50 MB/S connection, and we got the average Speed of 47 MB/S which is pretty remarkable. Overall, we are satisfied with the number of concurrent connections and Speed.

Do they have a VPN?
VPN is a very important privacy tool that protects your online activities from your ISP and other entities. Supernews doesn't offer a VPN Service of its own, but you can easily use a third-party VPN Service with Supernews for your privacy.
Do they have their own Newsreader?
A newsreader is a software that allows you to connect with the Usenet Servers and retrieve information. Many Usenet Providers offer their own Newsreaders, which make it easier for their users to configure and connect with their Usenet Servers. 
However, Supernews doesn't have its own Newsreader, and you will have to rely on a third-party Newsreader. Luckily, there are some really good Newsreaders available, and you can check the reviews of Best Newsreaders on our website.
Are they NZB Compatible?
Yes, Supernews is fully compatible with NZB Format, and you can easily get NZB Files from the Usenet via Supernews.
Customer Support
The company claims that it offers 24×7 customer support, but the platform doesn't come with a live chat feature, which would allow users to connect with the customer support agents in real-time. Instead, you get the ticket-based system where you generate a ticket from the official website, and they will contact you via email.
The support section also comes with the FAQ Section, which is not very comprehensive, but still, it provides answers to some crucial questions making it useful. Overall, the customer support of Supernews is very basic, and they can improve it by incorporating a live chat option.
SuperNews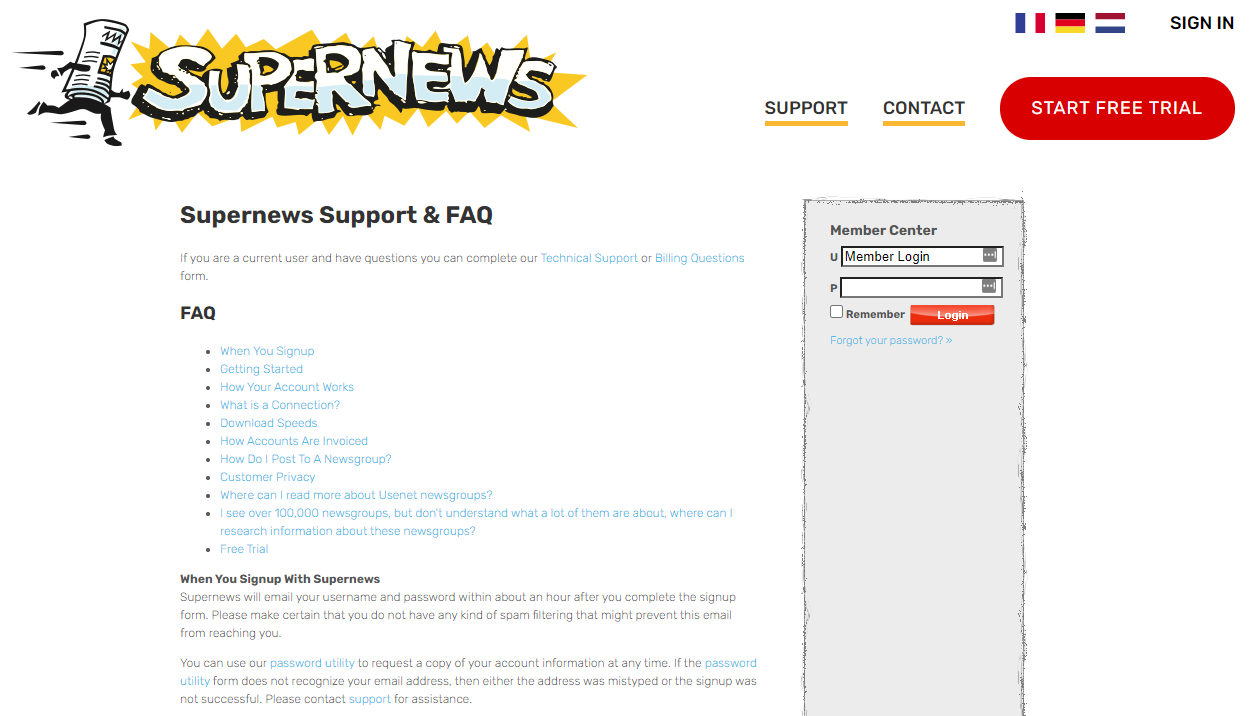 Conclusion
Overall, Supernews is an ideal Usenet service provider which offers a good number of concurrent connections and Speed. We recommend that you check the reviews of our recommended Usenet Service and then make the purchase decision.