TweakNews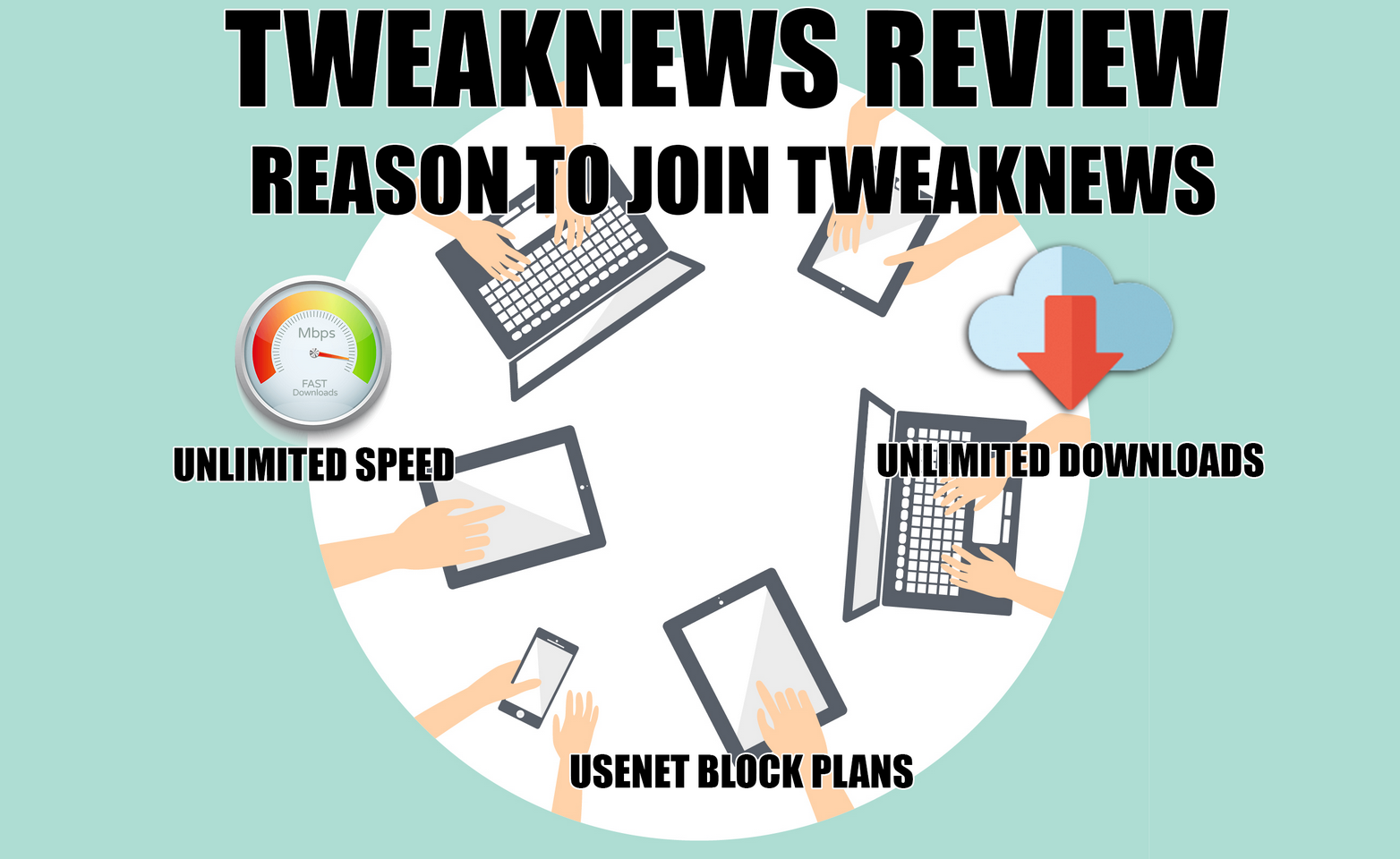 There are Usenet providers all over the world, yet countless of them are situated in Europe. And that is the case with TweakNews. TweakNews is a Dutch Usenet provider headquartered in Haarlem, Netherlands. The service came into existence when experienced Usenet users began switching to them for block accounts. The service turned out to be very popular. TweakNews now has a custom Usenet client which has made their unlimited (flat-rate) plans well known. It is an excellent option for the people who need to try a Usenet provider outside of the United States. Furthermore, it's a reasonable Usenet service that put quality first.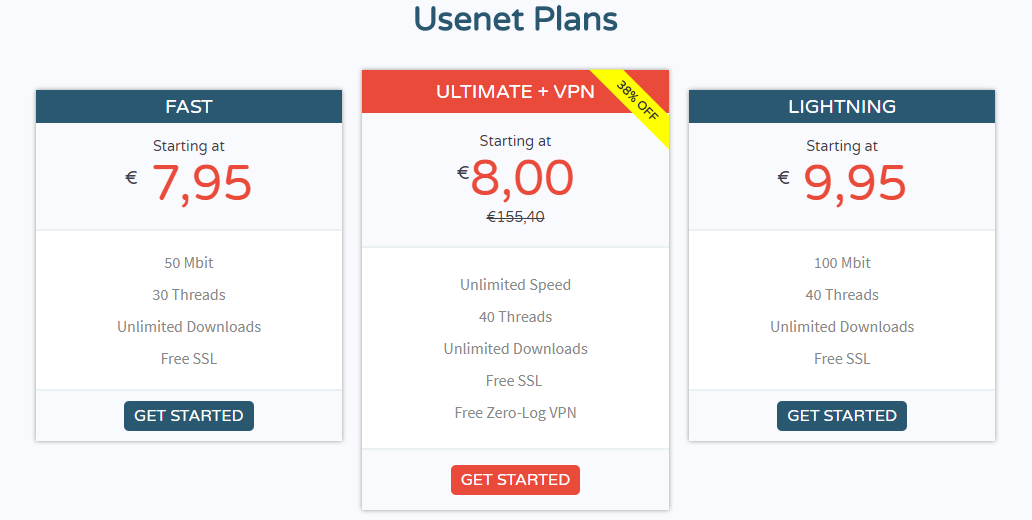 Alongside incredible completion and custom Usenet browser, there are a couple of different features that help TweakNews stand out. The first is binary retention. While numerous European Usenet providers are hovering around 1,100 days, the team at TweakNews has kept on growing binary retention to more than 2,500 days. Speed is another quality for the service. While several Dutch services cap speeds, the team at TweakNews provides people with a few speed options including an unlimited plan that gets rid of any caps.
TweakNews offers various flat rate plans. The distinction comes down to the number of connections permitted and finally the speed cap. The Ultimate plan incorporates unlimited speed and downloads. Alongside the month to month costs you can save a lot with their term discounts.
In addition to flat-rate plans, TweakNews offers various block accounts running from 10 GB up to 500 GB in size. These plans are a good source for fills. You can utilize the block until it's exhausted. Speeds are capped at 100 Mbit.
Regardless of which plan you choose, payment options are usually the same. You can pay using iDEAL, Sofort, Giropay, Visa, MasterCard, and American Express. TweakNews understands that you may need some time to test. You can use the TweakNews service for free. Sign up for their free trial and download up to 10 GB of newsgroup content to test the service. This will give you a good opportunity to test their software and NNTP servers.
Features of TweakNews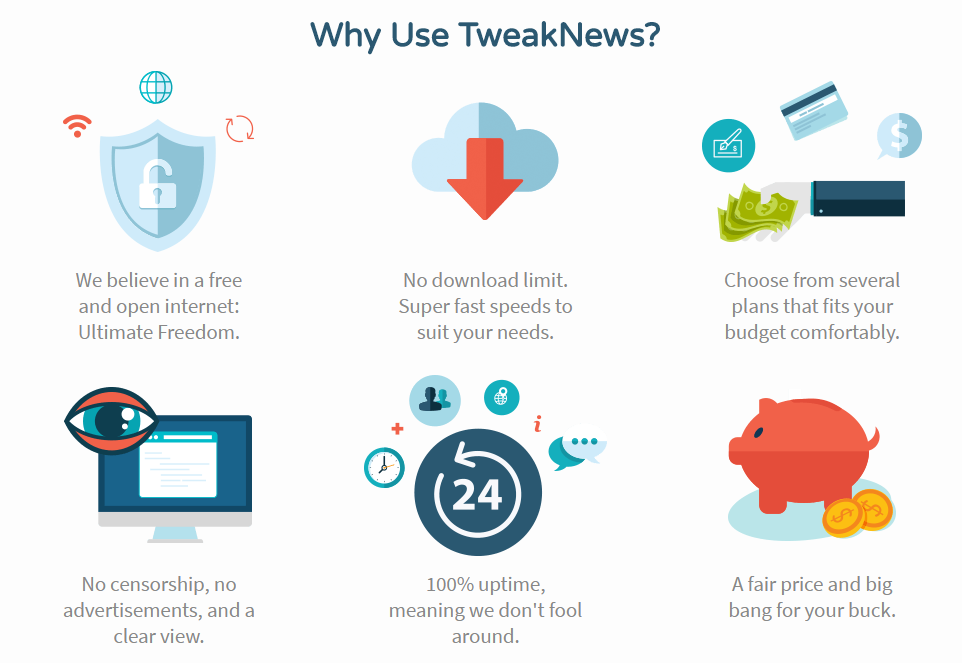 Pricing package
Flat rate
In flat rate, the options are usually paid month to month – you can pay by one, three, six or 12 months – and they're focused on users who are expected to do a lot of downloading, offering unlimited usage. The least expensive plan prices are $2.70 for one month, and for that, you get your speed capped at 1Mbps and four strings. On the off chance that you settle on maximizing your connection, the limitless speed Ultimate plan is the best choice that'll set you back to $13.80 for one month or less if you do a longer subscription.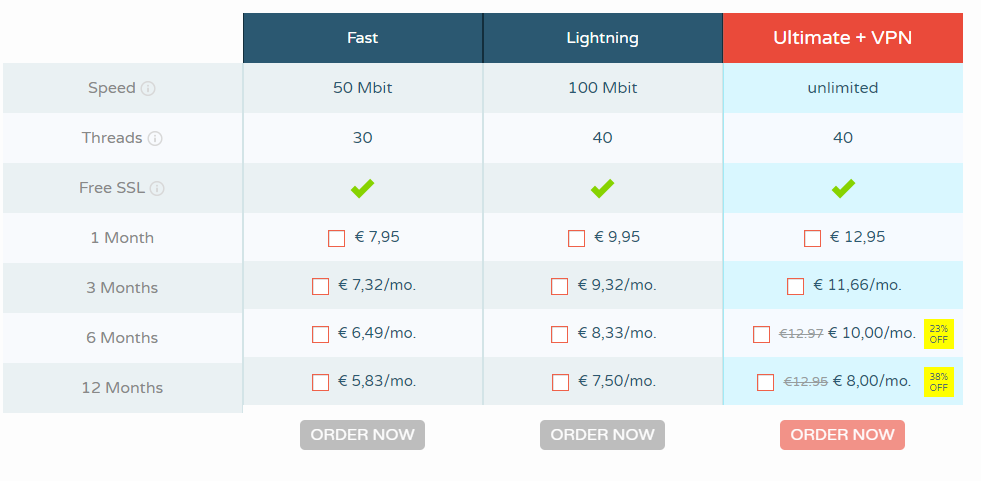 Block accounts
Users are being offered fixed amount of data In block account rather than a month to month subscription– start at a 10GB block for $2.10, running up to 500GB which will set you back to $48. All block plans boast a most extreme speed of 100Mbps.
Free Trial Details
You can get a free trial of TweakNews for 10 days. TweakNews likewise offers a free trial empowering you to try out the service, and you can use it for 10 days or 10GB worth of data, whichever begins things out. You can get discounts on the requesting price by agreeing to acknowledge a more drawn out time of service. Where the flat fee membership is concerned, you moreover get more strings with a higher subscription level.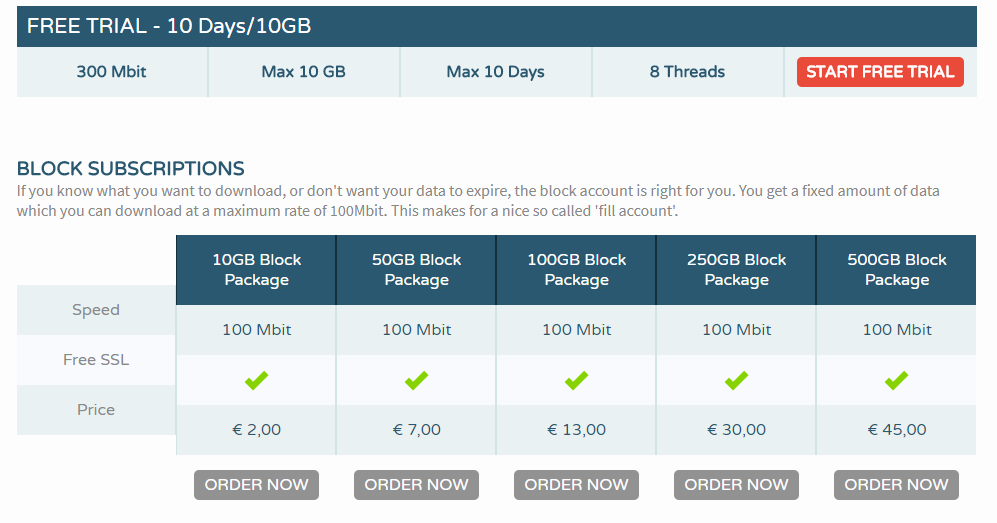 Retention rates
The current binary retention rate for TweakNews is for 1,100 days. They boast a completion rate of 99 percent or better. With regards to performance, retention is important. You would get 2,500 days of paired maintenance With TweakNews, which refers to the amount of time data that is kept. It doesn't make a difference in case you're downloading documents that are a few days old or ones which have been around for a considerable length of time – the platforms intend to maximize your broadband connection.
Completion rates
Completion rates are also basic, and you'll see that most amazing providers go for close to 100%. TweakNews offers a rate of 99.9%, regardless of the fact that it's important that this rate can change (as it is also the case with retention). So in the process of signing up, you may end up with higher rates at some point or later.
Security
Tweaknews Provides SSL-secured downloads, which is quick and reliable and it works with all well-known NZB applications like Sonarr, Radarr, NZBGet, CouchPotato, SickBeard, and so on
Like the case with most Usenet providers, SSL encryption more often accompanies all accounts. Moreover, at whatever point you download and exchange data, your identity is kept completely unknown. That means you don't have to bother over third-parties getting to your download history.
Conclusion
In case you're searching for a Usenet supplier based outside the US, then it is worth checking out TweakNews. TweakNews has a lot to offer. The free trial is an incredible approach to try out the service and figure out whether it gives everything that you're looking for. The different speed options are additionally extraordinary. On the off chance that you don't have an Internet connection fast enough to suit their fastest speed, you don't have to pay for it. This level of adaptability is excellent for many different types of users. The way SSL encryption is included for free is additionally an incredible feature. With intrusions on user privacy becoming more common by media outlets, ISPs and governments, security is of the utmost concern, and TweakNews offers it.Check out our Best Usenet Providers.