UsenetBucket is a Usenet provider with servers all over the world but based in the Netherlands that offers many great features at competitive prices. They claim that their unique service offers secure payments, 24/7 support and SSL connections on every membership. Right on their front page, they have many great testimonials and reviews from dedicated customers proving their excellence, as well as a direct feed from Twitter for references of their company. They have an average customer response time of 24 minutes for their full 24/7 support and can offer gift cards to share UsenetBucket with your friends and family.  

Features UsenetBucket believes in being fast, reliable and safe for all users. They have a fast growing network full of peering so that they have the most extensive connections though out Europe. They are very reliable and always online with their programs and support. Every membership comes with SSL connections, too, because they want you to know that your downloads are secure! UsenetBucket operates based around the users. They consciously improve their services on a daily basis based on the reviews and feedback of customers and testers in order to make the best possible Usenet experience. They stress the facts that "You are in control" meaning that with each membership, you get a "Control Panel" which allows you to do many things including changing details, changing buckets, filing support requests and reading e-mails.

Prices They offer three main packages through an easy set-up membership page  with connectivity through e-mail or Facebook. They offer the Basic Bucket plan, the Comfort Bucket plan and the Ultimate Bucket plan, as described below. They offer each of these plans for either 30, 90 or 365 days, as seen on their membership and "order now" pages.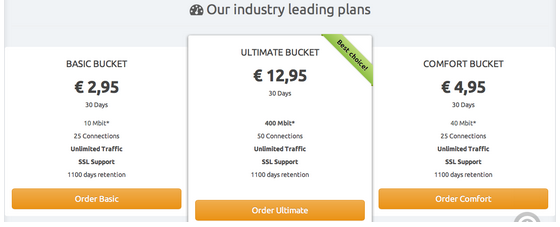 Free Trial With every new account set-up, you have the chance of trying out UsenetBucket with their free seven-day trial. The trial expires automatically after seven days or when you hit the data-limit. There are no strings attached when using their free trial as you do not need to put in any payment information up front.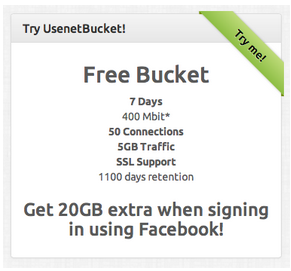 Support UsenetBucket offers a full 24/7 support line which they pride themselves on having an average response time of 24 minutes. They have an extensive FAQ page also, for you to browse and figure out your problems on your own. Right from their website or their Control Panel, you can file a support ticket. They also have a unique search engine for troubleshooting that is very responsive in finding past problems and answers.

Checkout For Best Usenet Providers.